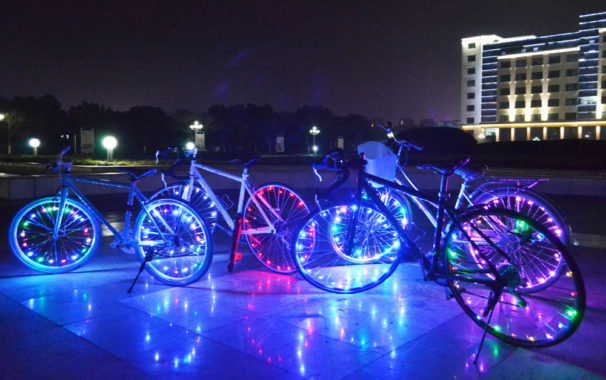 I bet you saw people riding bike at night. If there is any bicycle club around you, or there is always a group of bike rider pass the road in front of your house at night, you will easily find out that bike wheel lights are become increasingly popular.
There are a variety of bike wheel lights. The most traditional ones are screwed on valves, and some other lights are fixed on spokes. When the wheel turns quickly, you will see a circle of light.
What much incredible is that nowadays some bike wheel lights can even show images when wheels turning quickly.
What iChristmasLight make is a new one, which is made with LED copper wire string lights. It is not expensive, not heavy, and attractive at night.
So many manufacturers are designing and producing new lights for bicycles. This also reflects more and more people want to add lights on the bike wheels. It comes the question, why do these bike wheel lights become so popular?
In the author's opinion, first of all, it is because sports are popular. People pay more attention to their health now. No matter what kind of sport it is, running, yoga, footballs or swimming, there are always a group of fans. Bike riding is just one of them.
Secondly, bike is one of the most reachable sport methods. You can ride a bike to company on the morning, and ride back home after a whole days work. It is a kind of sports, and a daily tool at the same time. That's why bike riding are popular than most of the other sports.
Last but not least, beside weekend, most people have physical training at night. They are busy with they work at day time. It is time to sport after a whole day's work. Many people ride bikes at night. That's why bike wheel lights are so popular now.
Click HERE to know more about bike wheel lights from iChristmasLight.